Key events
The outgoing champion, Tadej Pogacar, speaks about his late attack on the final lap in Paris: "It was kind of funny. Thomas and Ganna on the right side, me on the left. Fuck, it was funny, because I said to Pippo [Ganna] two km before, I said to him: "We go for an attack?" And we were sprinting against each other. And i think I was just dead by the Triomphe, on the roundabout, finished."
Philippe Gilbert, after riding his final Tour stage, speaks to Eurosport: "Happy to be in Paris. It was a tough tour, really difficult, and I'm happy to have made it.
What made it difficult? Wout van Aert? "Yeah. Pretty much him. No, the speed was crazy, out of control. We went with a plan every day, and it ended up with the opposite. Some days we thought it would be controllable, with a nice [breakaway] group like it used to be, but it would end up with a crazy strong group to chase, and finishing with almost 50 [km/h] average. It was dry every day, so it means fast. A lot of tailwind, so it was really fast, fast.
"It's nice when you can decide yourself, when you stop. That's my decision and I'm happy to take it. I enjoyed also today. It was nice, yeah."
Bradley Wiggins remembers rooming with Gilbert 20 years ago when they rode for Francaise des Jeux. "I never imagined you'd go on to have the career you had. You've won everything there is to win in the sport."
"The same for me about you," Gilbert replies. "We achieved our goals, I won the one-day races and you won the stage races."
"My career is not over," Gilbert concludes. "I want to rest now, and finish on a good note, I hope to win one more race this year."
Simon Geschke has a chat with Eurosport: "It was a really fun time in the mountains jersey … if I'd lost it after two days, I'd have been like: 'That was fun'. But the longer you keep it, the longer you start believing that you can take it all the way to Paris. I thought I had a realistic chance, actually, but on the last mountain stage I made a few mistakes here and there probably. In the third week the energy levels reached their limits and that was it."
"Too bad, but that's part of the sport. The head wanted it more than the legs, but at least I got to wear it to Paris. Kind of a strange feeling, but still nice for the pictures, I guess. It's a privilege to wear a jersey in the Tour de France. For sure I enjoyed it today also although I was only second in the mountains classification … it's sort of a little achievement, as well."
Surely you have to question why Groenewegen sprinted so early? It looked like a bit of panic. All he was likely to do was lead out Philipsen, or Ewan, or Sagan, or AN Other. As it happened, Philipsen was in the perfect position to benefit, right on Groenewegen's wheel. And it was an utterly dominant win by Philipsen in the end. No doubt Mark Cavendish is sitting at home and thinking he could have won that. It was a bad day for both Quick-Step and Jakobsen, who didn't feature at all.
Today's stage winner Philipsen speaks: "I cannot believe [it], it's a childhood dream coming true, this will take a while to realise. I'm just super-proud of the team, that we finished the Tour like this, it's the cherry on the cake.
"I think it [the final kilometre] went ideal for me. I was in a great position. I think Dylan was forced to launch early and I could really stay in his wheel and do my final sprint when I wanted … I'm super happy and proud that I could win in this Champs-Elysees, the dream of any sprinter.
"It couldn't be better. We had some disappointments earlier this Tour, things that went not the way we wanted. But to finish off in style like this, to win stage 15 and then again on 21, on the most beautiful stage for a sprinter, it's just unbelievable."
Top 10 on stage 21:
1) Philipsen 2hr 58min 32sec
2) Groenewegen
3) Kristoff
4) Stuyven
5) Sagan
6) Lecroq
7) Van Poppel
8) Ewan
9) Hofstetter
10) Wright
Kristoff (who finished third) sums up the final sprint: "Unfortunately there was a big movement maybe 300m to go, everybody had to stop pedalling a bit, and we lost a bit of momentum, otherwise I think we could have been closer to Jasper … anyway I'm happy with third place. Caleb was maybe a bit angry with me, but I felt I was fair, I made a straight line. I got the wheel of Groenwegen and Caleb was a bit boxed in because of that, but that's not my fault."
On the final straight, Luka Mezgec took up the leadout for BikeExchange on the left-hand side. trying to set up Groenewegen. Ewan looked pretty much in perfect position but was ultimately boxed in and didn't even bother to sprint. Groenewegen was second, Kristoff third, Stuyven fourth and Sagan fifth!
Philipsen got on Groenewegen's wheel – the BikeExchange–Jayco rider went early – and Philipsen timed it perfectly, completely dominating his rival in the final metres after springing out from behind him and heading for the clear road on the right. Ewan looked unhappy to be boxed in by Kristoff. A really bad Tour de France for the Australian and for Lotto Soudal.
Jasper Philipsen (Alpecin–Deceuninck) wins Tour de France Stage 21!
Wow! Philipsen's second stage win of the race is sealed in Paris! Back down the road, Jumbo-Visma ride across the finish line in formation. Jonas Vingegaard safely negotiates the final stage and wins his first Tour de France.
1km to go: Thomas (Cofidis) attacks!
2.5km to go: Ewan is well placed for Lotto Soudal and has teammates around him. Philipsen (Alpecin–Deceuninck) is right up there. Jakobsen is going to have a say, too …
3.5km to go: Politt leads for a while then pops and drops back. Simmons is there for Trek-Segafredo and Pedersen … The peloton speeds towards the famous tunnel for one final time.
5km to go: Around the Arc for the final time. Ineos are on the front with Ganna. Trek-Segafredo are massed near the front. Politt is up there for Bora. BikeExchange working for Groenewegen. It's all happening.
6.3km to go: Thomas and Ganna attack on the left for Ineos! Pogacar attacks off the front on the other side of the road! Pogacar isn't letting his Tour de France crown go without at least reminding us all that he still exists!
7.5km to go: The riders round the right-hand bend which leads up to the start-finish line for the penultimate time. The Arc de Triomphe is visible in the distance. As the bell sounds for the final lap, Schachmann and Rutsch are overwhelmed by the charging peloton. The crowd roars! We are all back together!
8.5km to go: And then there were two. Schachmann and Rutsch are up front together, the two Groupama-FDJ riders having fallen out of it.
9km to go: HUGE ride by Schachmann of Bora-Hansgrohe, on the front again and stamping on the pedals as hard as he can. He has clearly ridden himself into some very good form at this Tour.
11km to go: Schachmann does another turn, then flicks his elbow to ask Jonas Rutsch to have a go. The turns at the front are becoming shorter and shorter as the fatigue really sets in. Are the sprinters' teams just holding off a touch? No – the gap is now six seconds.
12km to go: Cracking ride by the four up front, this is. They are holding the peloton at around 10sec as they round the Arc de Triomphe. Mind you, the four is now down to three: Le Gac's tank is empty and he drops back to the bunch.
15km to go: The break's advantage drops to under 10 seconds. They will be getting swallowed up before too long. Looking grim-faced, Schachmann puts in another desperate dig to try and keep away. These guys are basically sprinting now to try and keep their advantage … and it does creep back up to 11sec to mark the effort they are putting in.
18km to go: Doull has been dropped by the escape group so they are down to four. The gap is holding at 15sec. Le Gac and Duchesne, the Groupama-FDJ teammates, take it up at the tête de la course.
19km to go: The likes of Lotto Soudal are working desperately to set up a sprint. Their sports directors will be yelling down the team radios and no mistake. But will they simply be setting up the likes of Wout van Aert to win in Paris again? If as expected it's a big bunch sprint, surely Jakobsen or Ewan will have the raw speed to win it …?
How about Alexander Kristoff (Intermarché–Wanty–Gobert Matériaux), a man who has won in Paris before, and who tends to excel when everyone else is knackered?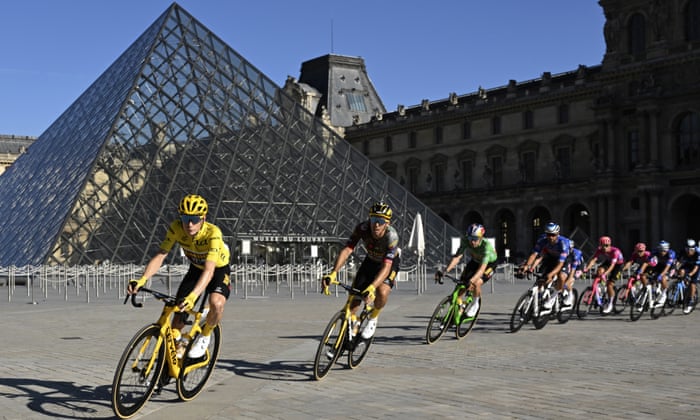 20km to go: Here we go. Into the final 20km of a truly epic Tour de France. The advantage for this five-man break is 15sec.
The riders in the break are Schachmann, Duchesne, Rutsch, Le Gac and Doull.
21km to go: #LargelyCeremonial
22km to go: Boasson Hagen has a mechanical and grabs a replacement bike. That'll be another lung-bursting effort to get back into the peloton, let alone do anything to try and lead out his teammate Peter Sagan.
23km to go: Schachmann continues to put in a massive effort at the front, dragging his breakaway companions along, before dropping back behind them and taking a 'rest' of sorts by shielding from the wind. The average speed for the stage is up to 36km/h, fast considering the snail's pace of earlier.
25km to go: The advantage for this five-man break has risen to 20secs. Schachmann, probably the strongest rider among the group, powers away at the front.
26km to go: It's not Pinot! Le Gac and Duchesne are there for Groupama-FDJ. Letour.fr had it wrong, before I noticed that Pinot wasn't there in the break with my own eyes.
28km to go: Doull, Rutsch, Van Poppel, Duchesne and Pinot have 10 seconds as they hit Place de la Concorde.
And now 13 seconds. There will be dancing in the streets of Groupama-FDJ tonight if Pinot wins this.
(He won't.)
32km to go: Here comes the famous Arc once again. Lotto Soudal are doing a mountain of work at the front, desperately trying to close it all down for Caleb Ewan. They are under big pressure to deliver a stage win at the last time of asking at this Tour de France.
Now, that previous break is swallowed up, and immediately more attacks come off the front. The legs will be burning in the peloton, but at least they've had three weeks to warm up for one final mammoth effort.
Doull, Rutsch, Van Poppel, Duchesne and Pinot (!?) are now in an escape group and they have a handful of seconds.
35km to go: "The Tour will need to end outside Paris in 2024," emails Steve. "The Olympics start that week and I can't see the IOC permitting something to get in the way of the Olympics PR juggernaut."
On the road, the break's lead is shaved to six seconds. Jorgenson of Movistar has joined in the fun in the escape group so it's six men up front.
37km to go: Mattia Cattaneo (Quick-Step) has a mechanical. Looks like he can fix it himself, but that's going to be a BIG push to get back in touch with the peloton.
Meanwhile, over Paris, the French equivalent of the Red Arrows carry off their second fly-past of the day, belching red, white and blue smoke as they go.
38km to go: The gap is seven seconds. The breakaway riders are working phenomenally well to keep the main bunch at bay. But there is no way they will stay away.
40km to go: Bissegger takes maximum points at the intermediate sprint, but that isn't important right now.
42km to go: Dewulf (AG2R Citroen), Tratnik (Bahrain-Victorious), Bissegger (EF), Burgaudeau (TotalEnergies) and Martínez (Ineos) are the five up front.
They have eight seconds.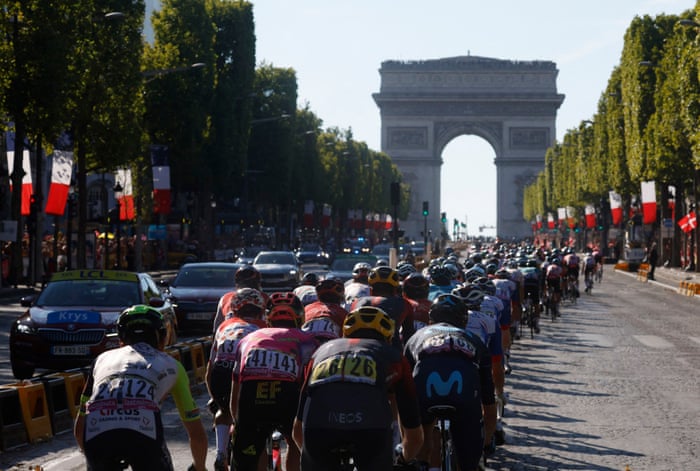 43km to go: Bissegger's monster attack has helped a group of four to get away and they have five seconds on the frantically chasing bunch.
45km to go: Stefan Bissegger (EF Education–Blah Blah) attacks off the front.
It's EF Education–Easypost of course, sorry. It's easy(post) to lose track of all these sponsors.
46km to go: "Don't know about the truth in the Rog to Ineos rumours, but I'm going to have to ki-bosh the one about next year's Tour starting in Tuscany and finishing in Nice," emails Roland. "It's common knowledge that next year's Grand Départ will be in the Pays Basque."
Thanks for the heads up, Roland. I've always wanted to go to Bilbao.
49km to go: The Louvre!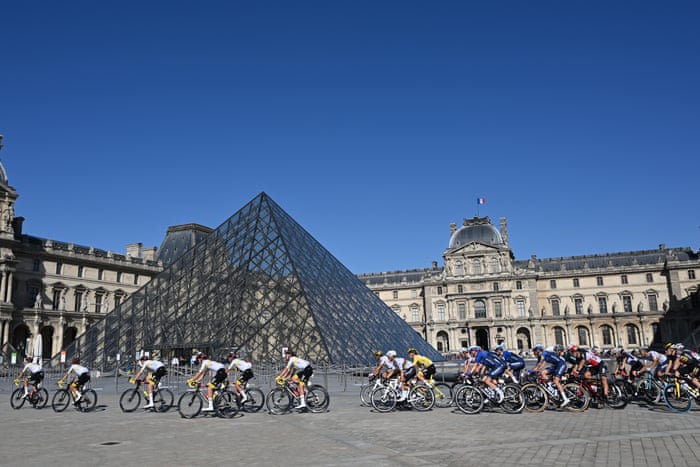 Meanwhile on the road: the three riders at the front have become five, but plenty of teams behind were not happy to let that break go, and it's essentially been shut down now.
54km to go: The peloton, which is now strung out after the attacks at the front, wheels around the Arc de Triomphe for the first time. The crowd noise is incredible, hundreds of thousands of fans lining the streets to cheer on the riders.
Benoît Cosnefroy (AG2R Citroën), the aforementioned Nils Politt (Bora-Hansgrohe) and Krists Neilands (Israel–Premier Tech) are up the road and have a few seconds. They are travelling at 60km/h plus on the downhill drag from the Arc.
55km to go: The peloton winds its way through the Louvre, past the famous pyramid, then on to Place de la Concorde, and on to the Champs-Élysées … and on to the finishing circuit! And the attacks begin!
56km to go: Champers. (From a little earlier.)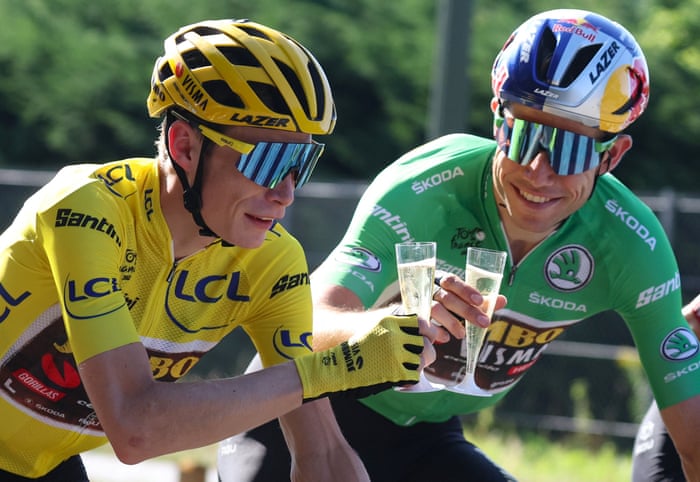 57km to go: Ah, Wout van Vert. I see what they did there.
58km to go: Tiesj Benoot takes it up for Jumbo-Visma as the race hits central Paris. Fans are packed along each side of the road and cheering with enthusiasm.
61km to go: I just searched for the oldest available Tour de France photos of Philippe Gilbert and came up with this beauty: Contador, Wiggins, Froome, Evans and Gilbert at the 2013 route presentation, in Paris, in 2012.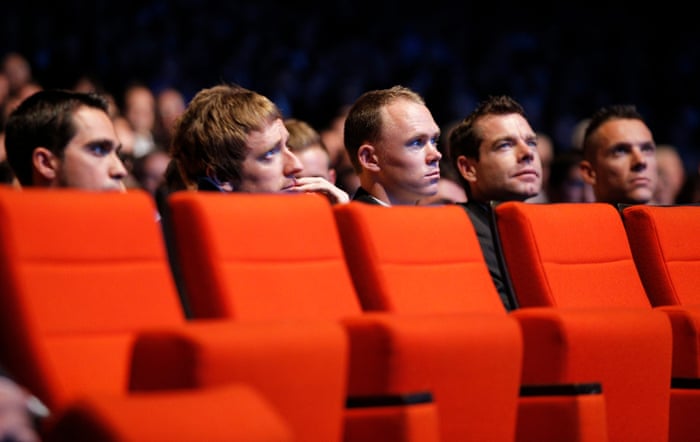 And here is Gilbert chasing Contador up the Mur de Bretagne in 2011 …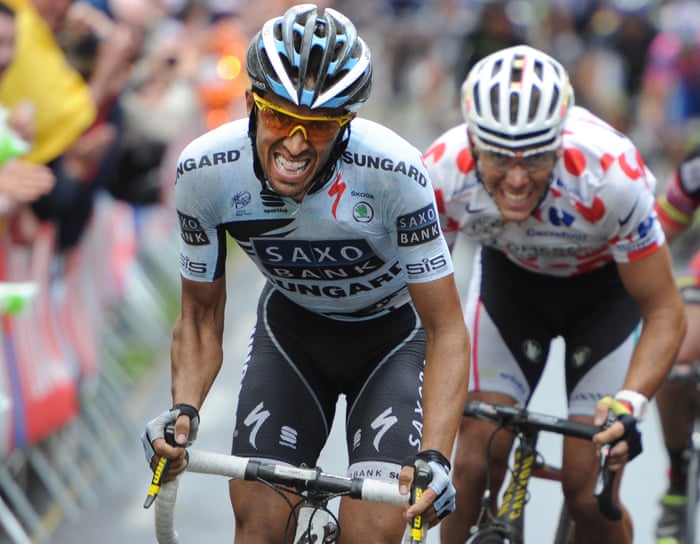 64km to go: I'd be happy to see Caleb Ewan win today. It would be much needed for Lotto Soudal, for Ewan personally, and it would also be a sweet way for his teammate Gilbert to sign off from his stellar career. The champagne would flow. (It will anyway.)
65km to go: Daniel Lloyd, co-commentating on Eurosport, drops a couple of rumours into the mix:
1) Team Ineos want to sign Primoz Roglic. (Apparently this was reported on a cycling website today.)
2) Next year's Tour de France will begin in Tuscany and end in Nice.
Both interesting!
66km to go: A Paris factoid from letour.fr: "The Champs-Élysées has hosted the finale of the Tour de France since 1975 but it's actually the 50th stage finish today as in 1976 and 1977, two half-stages came to an end on the world's most beautiful avenue."
68km to go: The peloton rolls off the solitary climb of the day and closer and closer to central Paris. The pace is edging towards something resembling an actual bike race. It's been a fun day for the riders, with Philippe Gilbert in particular visibly relishing the final Tour de France stage of his career. But the game faces will be on soon for the flat-out circuit race in the French capital.
72km to go: Pogacar has a quick chat with Eurosport, recorded pre-stage: "I can be really happy with this Tour de France … we wanted to win … but we can be proud. I'm really happy and I'm looking forward for the new challenges.
"Stage wins are always incredible in the Tour. First one, two years ago, was something incredible … I come this year and I won a stage again, it's something I cannot describe, for me it's why it's so beautiful, this racing."
72.2km to go: This is a nice moment: Simon Geschke of Cofidis is allowed to climb away (fairly slowly) to claim the final KOM point of the 2022 Tour de France.
He will miss out on the jersey to the race winner Vingegaard, but on the final stage, his fellow riders are recognising his gallant efforts in battling for the jersey.
72.7km to go: "Who first said: Viva Le Tour?" asks Kurt on email.
You did, I think.
(It's Vive le Tour.)
73km to go: The race hits the final climb of the 2022 race, the Côte du Pavé des Gardes. Geschke trails Vingegaard by eight points in this classification.
74km to go: Always nice to see a Breton flag at roadside. This was on stage 17.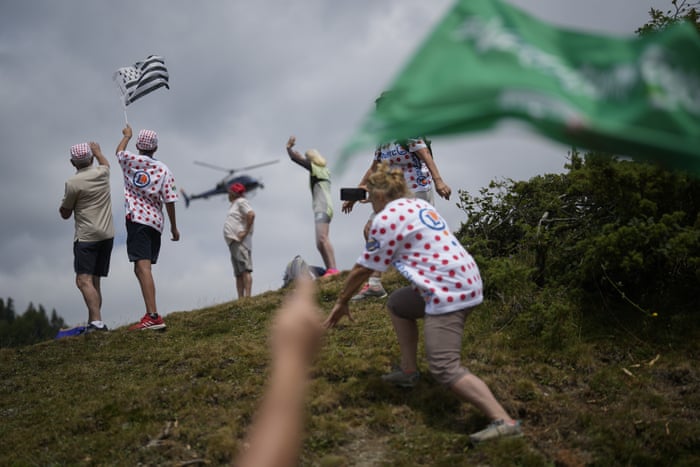 75km to go: Let's get it trending: #LargelyCeremonial