18 min Jota is fouled neared the corner flag by Konsa, a daft piece of defending. Tsimikas's free-kick is headed towards goal and blocked by Cash, who desperately boots the loose ball clear.
17 min "Whatever about Liverpool and The Bench, we're certainly not seeing Villa on The Beach tonight, which is to their credit," says Justin Kavanagh.
So which of the Villa team is Leo playing?
15 min The game is starting to settle down after that frantic start. Liverpool are having more of the ball but Villa are a big threat on the break. Coutinho has been very quiet so far; it's Watkins, McGinn and Douglas Luiz who have been most dangerous.
13 min And here's the equaliser.
12 min Villa are right up for this. Cash plays a give-and-go with Douglas Luiz and sidefoots a dangerous cross that is sliced across the six-yard box by Matip. Eventually the ball comes to Digne, who sprays over from 15 yards.
11 min Villa look lively in transition, with Watkins' movement especially good. He pulls wide to receive McGinn's long pass but then crosses too close to Alisson.
10 min "This has the feel of one of those end-of-season matches that finishes 5-3 to one or the other," says Patrick Crumlish. "I always enjoyed those when there was nothing at stake. Tonight, not so much."
9 min Tsimikas's cross – I think it was a cross – almost loops over Martinez, who jumps backwards to grab the ball with both hands.
8 min Here's the first goal.
Villa made a mess of dealing with a free-kick, first Mings and then Nakamba. Van Dijk's shot was well saved by Martinez but Matip turned the rebound in from six yards.
GOAL! Aston Villa 1-1 Liverpool (Matip 6)
Jurgen Klopp is no longer unhappy!
5 min Jurgen Klopp is unhappy. Liverpool felt Watkins was offside when his shot was saved by Alisson. It was very tight, though I suspect he was fractionally off. But there were around 10-15 seconds between that and the goal.
Alisson made a smart save from Watkins, but Liverpool couldn't clear the danger. Eventually Digne's cross was headed towards goal by Douglas Luiz at the far post. Alisson made an unconvincing save and Luiz – once of Manchester City – gobbled up the rebound from a few yards.
Tsimikas, Matip and Watkins well all on the floor when the goal went in, but I think they just tripped over one another. Either way, the goal stands!
GOAL! Aston Villa 1-0 Liverpool (Douglas Luiz 3)
Villa take the lead in the third minute!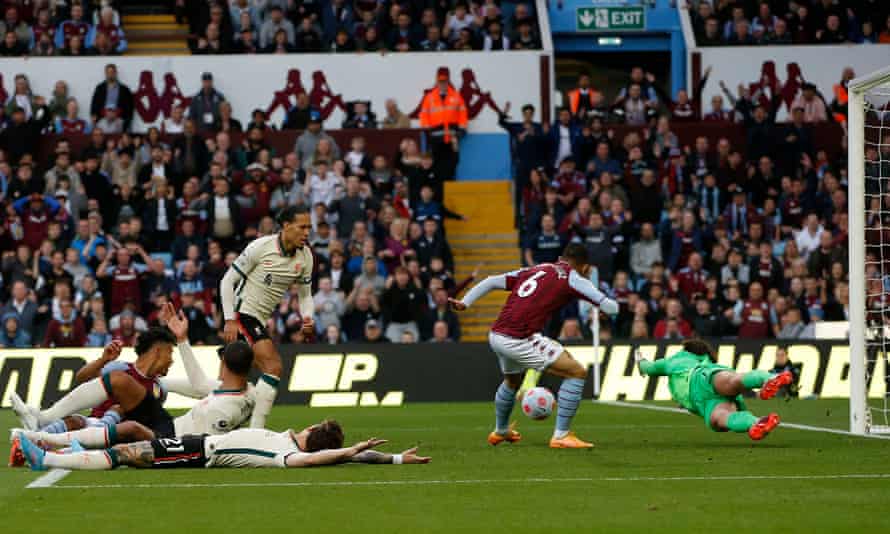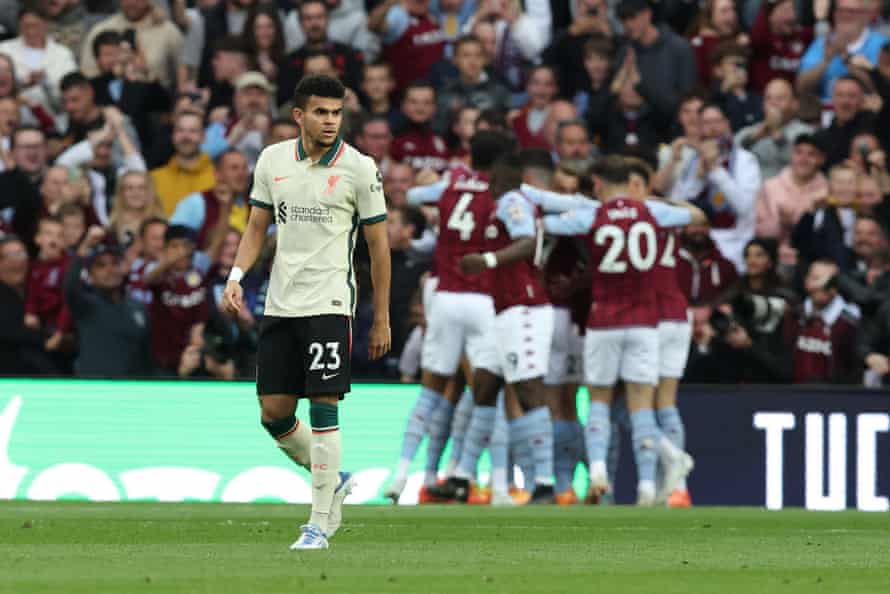 2 min Liverpool have started with Mane up front, Jota on the left and Diaz on the right. That's a bit of a surprise given Diaz's recent form on the left.
1 min Peep peep! Liverpool, in their off-white away strip, kick off from right to left.
The players are coming out. This is a must-win game for Liverpool, ideally a win-by-three-or-four game.
"Penny for the thoughts of Harry Kane tonight," says David Wall. "On a different subject, they've been discussing on the radio whether City have ever signed someone of Haaland's status before. Does no one remember when they signed Robinho? Sure, he'd perhaps flattered to deceive a little in the couple of years before, but he was still incredibly high profile. He was expected to be THE big thing only a few years before. That said, I expect Haaland is pretty clear about which club he's joining, and you'd think it'll go better than Robinho's move did."
All very fair points. You could make a case for Yaya Toure as well, though I guess Haaland is more coveted. We should patent a Statusometer for transfers like this, pull the data right of our well never mind.
The pre-match thoughts of Jurgen Klopp, Esq.
"My son is always telling me that you get 'six goals, six assists' from Coutinho every season, 'no more, no less'," says Gary Naylor. "I haven't checked his balance to pay for 2021-22, but if they all come tonight, I fancy Villa 7-2. (Okay, 2-1)."
"Regarding your response to Peter Oh," begins Harriet Osborn. "I'm not sure I like the suggestion one of The Bench is about to get a season-ender, or with your casting of Sean Bean! Although Pegg as Kelleher and Statham as Milner could work."
Oh I wasn't talking specifically about the Liverpool subs. I was just fantasising about a film called The Bench, ideally with an enigmatic voiceover from Alan Ford. (NB: clip contains language)
"Can I just say that I object to my potential monthly Guardian financial contribution being potentially used to potentially fund false feuds between top managers who clearly respect each other and do not in any way 'accuse' the other of looking for excuses," says Ian Copestake. "Why does the rhetoric for these stories have to be ramped up to levels of non-existent conflict? Not accusing you though, Bobby Robster. I am, in the parlance of our times, just saying."
What do you make of this new age of passive-aggressive feuds between managers? Do you like them, Ian? Do you? Do you? I think I preferred the days when Wenger and Ferguson openly called each other effers.
Anyway, enough of Erling Haaland. We're half an hour away from Aston Villa v Liverpool, the latest in a never-ending series of huge games for Liverpool.
"As a 'not' City supporter, my only thing to cling to is the injury record of Haaland this season," says Brendan Large. "He has missed a few games and that might limit him to only the 40 goals in the PL *crosses fingers*. But as a football fan I am very curious to see if he can turn them into even more of winning machine. It is a scary prospect but also makes me look forward to next season already."
Same here, it'll be a fascinating story whatever happens. He'll score millions, surely, but I suspect he'll ultimately be judged on the quality of his goals (in this case the timing and significance) rather than the quantity. Shall we just call him a flat-track bully now and get it over with?
'Good luck with that' department
1978-79 v 1987-88 v 2021-22
"Will Haaland break the mould for BVB players going abroad with big reputations?" says Mel Lynam. "The only real successes of their players moving on is when they head to Bayern."
That's slightly harsh on people like Aubameyang and Gundogan, but it's a very good point nonetheless. Haaland feels like a different beast, though.
"That Liverpool bench is very imposing," says Peter Oh. "Those guys might as well put on brass knuckles and tap baseball bats into their palms as they wait for their turn. I reckon you'll have to spell it with a capital B. Not just a bench. The Bench."
The Bench: starring Jason Statham and Sean Bean, with a surprisingly menacing turn from Simon Pegg.
Who's got an alibi for Saturday night?
"I am hoping that Haaland will be more of a Benteke/Lukaku/Carroll signing than a Toshack to all of Pep's little Keegans!" weeps Ian Copestake. "But I live in hope and expectation rather than as currently in Koreatown, LA."
I do think there's an element of risk, as there is with all signings I suppose. We know Haaland will turn 3-0s into 12-0s in the Premier League, but all that really matters is whether he turns 5-6s into 7-6s in Europe. I suspect he will but it's not a sure thing.
"So will this be the Premier League's last title race for the next five years?" writes Rob Hisnay. "I say that as, with Manchester City signing Erling Haaland, it doesn't look good for the competitiveness of the Premier League."
Folk said the same when Manchester United signed Juan Sebastian Veron and Ruud Van Nistelrooy in 2001, and when Chelsea bought Ballack and Andriy Shevchenko in 2006. Both teams won the title only once in the next five years. I mean, Haaland may well score 50 goals by November, but I'm keeping an open mind for now, especially with Jurgen Klopp around.
Steven Gerrard makes two changes from Aston Villa's win at Burnley on Saturday. Marvelous Nakamba and Philippe Coutinho replace Calum Chambers and Emi Buendia.
Jurgen Klopp rests a number of players ahead of the FA Cup final against Chelsea on Saturday. Overall there are five changes from the 1-1 draw with Spurs at the weekend. Joel Matip, Kostas Tsimikas, Naby Keita, Curtis Jones and Diogo Jota come in for the heavyweight quintet of Ibrahima Konate, Andy Robertson (who isn't among the subs), Thiago Alcantara, Jordan Henderson and Mo Salah.
Aston Villa (4-D-2) Martinez; Cash, Konsa, Mings, Digne; Nakamba; McGinn, Douglas Luiz; Coutinho; Watkins, Ings.
Substitutes: Olsen, Chambers, Chrisene, A Young, Iroegbunam, Sanson, Carney Chukwuemeka, Buendia, Traore.
Liverpool (4-3-3) Alisson; Alexander-Arnold, Matip, van Dijk, Tsimikas; Keita, Fabinho, Jones; Jota, Mane, Diaz.
Substitutes: Kelleher, Konate, Thiago, Milner, Firmino, Salah, Henderson, Gomez, Origi.
Referee Jon Moss.
Of all the gin joints. It's the year 2022, Liverpool are involved in a title race – and Steven Gerrard is a central figure. By a quirk of the fixture computer and the managerial merry-go-round, Gerrard's Aston Villa side play Liverpool tonight and Manchester City at the Etihad on the final day of the season. He could help Liverpool win the title, or he could finish them off in the next few hours.
If Liverpool drop points tonight, it'll be all over bar the tweeting. As they've taken 41 points from their last 15 league games, even the dumb money is on them winning at Villa Park. But there's no rest for the well wicked: the more successful you are, the greater the fixture pile-up, and this is Liverpool's 12th game in 39 days since the last international break.
One interpretation of their draw with Spurs on Saturday is that they showed signs of fatigue, mentally rather than physically, though in truth it's far too early to jump to that conclusion. It should surprise nobody if they chase Villa off the park tonight.
Villa have won their last two games though, ending a poor run of form, and have players who can hurt Liverpool: Ollie Watkins, Danny Ings and the artist formerly known as the Little Magician.
Like Gerrard, Philippe Coutinho will experience some mixed emotions tonight.
Kick off 8pm.